I'm obsessed with 70's fashion! I can't get over high-waisted, wide leg trousers and jeans. I love this pic of Hanneli, taken by
Mr.Newton
, which has a beautiful color combo and amazing trousers! I just took two pairs of high-waisted, w/l jeans to get hemmed (I'm short so I have to get all my pants shortened) anyway cant wait to wear them with some tees or 70's vintage tops, especially a coral cotton gauze, angel sleeve one I bought a while back at
Zachery's Smile
.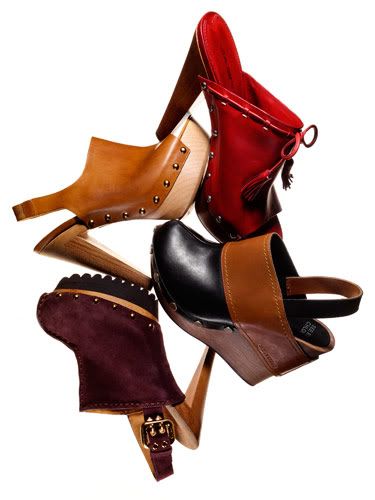 I'm also on the hunt for a pair of clogs, in particular a pair of Via Spiga ones I spotted in
Marie Claire
(the ones above the purple suede clogs) but I guess they haven't hit the stores yet because I can't find them ANYWHERE : ( but I'll keep looking!
Have a wonderful weekend!